Marvellous Cain chats about his forthcoming Hitman Remixes LP
Marvellous Cain and the Yardrock Riq Family are releasing a huge collection of remixes of his infamous old skool Jungle anthem – The Hitman featuring Cutty Ranks.
To celebrate the release of this LP, Junglist Network are producing a Limited Edition vinyl re-pressing of this track along with Everyday Junglist and a previously unreleased and unheard track from back in the day.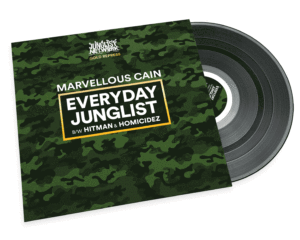 The Hitman LP will feature remixes by some massive artists (as well as from Marvellous Cain himself of course)
DJ Hype
The Serial Killaz
Bladerunner
Scott & Nick
Scott Garcia
King Yoof
Inna Culture
DJ Hybrid
Ruff Stuff
Kenny Ken
Sappo
Jamie Bostron
Adam Prescott
Toronto is Broken
That's a lot of remixes! We chatted to Marvellous Cain ahead of this massive release to find out what inspired it and how things had changed since the release of the original.
Q- What studio setup did you use for the original Hitman?
A- Back in the 90's the studio I used had an Ensoniq EPS M Vintage Synth Rack Sampler Module with about 20sec of sample time on along with an Atari 1040 computer were talking floppy disks, Black & white screen and it loved to crash and we had a drum machine and some monitors. It was good fun making tunes on such Basic equipment..
Q- Why do you think it's been such an never ending success?
A- To be honest I haven't got a damn clue but I'm not complaining.. Ha ha
Q- What inspired you to work on this remix project?
A- Well in 2014 we bought out the Bladerunner remix to relaunch and renumber the label, so at that time Bladerunner had done me and him self a VIP I had been sitting on it for two years waiting to put it out. At the same time I had 2 Rotten Scoundrels two wicked producers in the House and Garage screen alongside Scott Garcia who are working with me on turning some of my old tunes into some House, Garage & Breakbeat remixes. They had sent me two sick Garage remixes one by Scott & Nick and then Scott Garcia sent me his remix and they were banging so after a little bit of deliberation I decided to compile a 20 year celebration of the track by getting remixed in as many different styles of electronic music shall we cover the whole spectrum, and the Album was born..
Q- What was the first remix you heard that you loved as much as the original?
A- That's a hard one as everyone involved in this project has come up with totally different styles which is what I wanted, I didn't want everyone to try to reproduce the original I wanted everyone to take their own vibe from the samples and make their own interpretation of the tune. Which we got thank you all. I can't just pick one from this pack but obviously the Bladerunner & Scott Garcia remixes started the ball rolling but the two mixes that got me when I heard them was by King Yoof, Adam Prescott one is Bashment Reggae and the other is Dub..
The Junglist Network repress will be available late October and Yardrock Hitman remix LP will be out soon.