Big Bad & Heavy – Jumpin Jack Frost's life story will blow you away
Jungle legend, Nigel Thompson aka Jumpin Jack Frost has given us the ultimate roller coaster story of his life. We chatted to him just after the release of his autobiography Big Bad & Heavy.
Big Bad & Heavy is the story of Frost's life, from growing up on the tough streets of Brixton and how music saved him from the life of crime that he saw many of his friends enter.  After starting out as an original Pirate DJ on Passion FM, Frost was at the forefront of the Rave explosion that took the UK and then the world by storm "back in the day".  As Jungle emerged from a fragmenting hardcore sound, Nigel emerged as one of the figureheads of the new sound. Releasing future anthem after anthem on his and partners Bryan Gee's ground breaking V Records. Going on to break artists including Mercury Prize winning Roni Size, Frost traveled the World spreading the word of Jungle.
But what goes up, always comes down and he found it hard to fully escape the criminal lifestyle and as his drug use spiraled out of control, he faced a battle that could see him loose everything he had worked so hard and come so far for.
How long had you been thinking about writing a book for?
It wasn't something that I'd thought about, the opportunity presented itself. I had the opportunity to work with a really good biographer. The process was really quick, the whole thing was done in 6 months.
How did you find the process?
It was stressful, very very stressful because I had to revisit some quite emotional parts of my life, so the whole thing was quite stressful, but hugely rewarding at the end
You know sometimes you have things that happen in your life and you put them in a box and lock it away, so to truly get over some of those things, even though I'm over it all now, you have to talk about it and respect that it happened.
Has it made you feel differently about those parts of your life
Yea, definitely I feel like a different person now. I approach and live my life differently now, do you know what I mean. It's was very therapeutic.
The description of the book reads more like a Guy Richie film than a DJ autobiography
Yes, it is. That's my life, I've led a very colourful life, I was involved with gangs, from a very early age I was heavily involved in gangs and violence and stuff like that. So, you kind of find yourself and you leave that behind and that's where I found music?
After writing Big Bad & Heavy would you live your life differently now or has it made you who you are?
I live my life totally differently now I respect life a lot more, I respect people a lot more and I respect the opportunities that life has given me a lot more than I ever did?
The book is pretty heavy and it's been received really well. I've had so many messages of thanks from people that can relate to some of the dark stuff in there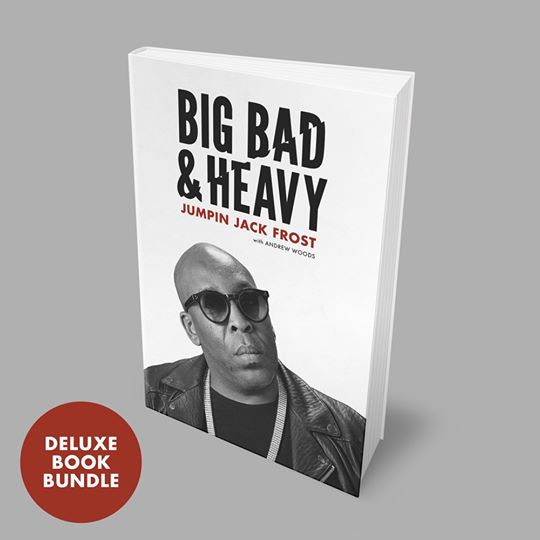 Well its an area that isn't normally touched on in these type of books
There is other stuff in there that people relate to, like depression. Things like that, that people don't like to talk about
Especially in music autobiographies its not normally dealt with
No, I thought it was something I went through and I wanted to share that, so other people could see that someone they might aspire to be like or look upto goes through the same things as them, I thought it was important highlight that.
Was that always your intention when you started?
I was very unsure and very nervous about it, I think I've grown in the last five years, so much. Before I was nothing like I am now, especially in the last 5 years I've grown and matured a lot more than I had before and I thought it was important to highlight that.  I could help other people, that could help other people to get over stuff I had to get over, to get them to talk to people and look for help and look for people to share your experiences with. If you can just sit there and talk to people it will help, but you cant deal with it on your own because it will just consume you. I always thought it was quite important instead of talking about the glory, the money, the gigs, the fame I thought it was important to talk about that side of things as well.
It makes it more real for people to relate too?
There you go. I thought having the opportunity to write a book like that I felt responsible to share that side of things as well.
Have you been surprised by the reaction you've had?
I've had so many messages other Dj's from other genres and the general public saying thank you for talking about something like that. I was actually quite nervous before the book came out about how it would be received. I'm happy people have embraced it in a positive way and taken the positive out of it
You can buy Big Bad & Heavy now direct from Music Mondays.
The book features contributions from Goldie, Roni Size, Congo Natty, Bryan Gee, Jazzie B, DJ Ron, Tipper Irie and more, Big Bad & Heavy is the compelling stories of one mans journey through the deepest and darkest Jungle of all……
Save
Save
Save