The Big Competition
As a thank you to our first 20,000 fans on facebook, we have decided to run a MASSIVE COMPETITION. Bigger than any we have had before and with prizes that you will never be able to buy anywhere.
It will take you 5 seconds to enter the competition and you could win over £500 worth of Junglist Goodies, including some new products from our Winter Collection.
The competition closes on the 17th of October and the winners will be announced on facebook and twitter.
Win £500 of very limited edition Junglist Network Clothes and Accessories (see below for full prizes).
To enter you need to complete 2 simple steps…..
1 Share this picture on facebook and tag two friends in the comments
2 Email us (info@junglistnetwork.com) your name, address and t-shirt size.
That's it. Thanks for taking part!
The Prizes :
1st Prize -Worth £500
1 Camouflage One Off Jnglst Parker – one of a kind  (see below)
1 Wooden engraved lighter (one off) (see below)
1 Test Pressing of our first vinyl release featuring Everyday Junglist, Hitman and an unreleased track from back in the day by Marvellous Cain (only 5 test pressing were ever made)1 Leather belt with embroidered logo – one of a kind (see below)
1 of our new Junglist Camo T-Shirts
1 Junglist Network T-Shirt of your choice.
1 Camo Embroidered Bucket hat
1 Copy of our Future Classics CD
1 Leather Camo Jnglst Wallet
1 Camo Jnglst Barrelbag
A Camo Ltd edition jacket
The main prize item is an exclusive Jnglst Camo Puffa Jackets. It is a prototype for our new range of Jackets that are coming out soon. But it has "Jnglst" embroidered on the arm in small white letters. This Jacket is different from the ones we will be selling and is a one off limited edition never to be seen or made again jacket like no other. It's an XL in size, but would fit if you normally wear a Large.
Uncle Dugs pictured wearing the Jacket below, along with the detail on the arm and jnglst buttons. Above the arm is a zippable stash pocket too.
A One off engraved wooden Jnglst Lighter
We had this made as a sample but decided it was going to be too expensive to sell. So this is a one off never to be made again Zippo (ish) Gas Lighter.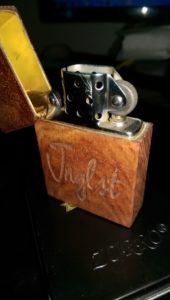 A Leather camo belt, with Jnglst embroidered on the end (mens large / xl belt)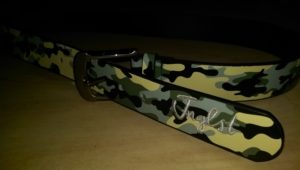 2nd Prize
1 of our new Junglist Camo T-Shirts
1 copy of our Future Classics CD
3rd Prize
1 copy of our Future Classics CD
Some Products that are available to buy from our Winter Range right now.
Save
Save
Save
Save
Save
Save
Save