Flex is Back. Interview and album review.
L Double picks up the Mighty Flex reigns after nearly 10 years absense with a Massive 33 track mix album. We ask a few questions and take a look at the album.
What brought you back after nearly a decade away?
"It was a combination of events to be honest. Mainly that my son is now in secondary school I have a little more time on my hands. I received a lot of interest in the Flex back catalogue over the years and I felt that the time was right. I had an opportunity to work with Southern Record Distribution and new label manager, Josh."
To come back with a 33 track album is no small task, what was the logic behind it?
"Mostly the abundance of music and artists we now have signed to the label. We are very fortunate to be working with a global network of extremely talented producers and DJ's. Also we felt that a compilation album would help spread the message that we are back."
How was the technical side of producing an album changed in your absence?
"Saving time … It's much a faster process than back in the day when everything was recorded to DAT tapes and moved from mastering to manufacturing for vinyl… far less leg work involved."
Why did you decide to name the album after Roughcut's track?
"The vibe and vocals on this track fits the way we feel right now , back in the jungle after a break, the audio assassin has returned to create a rumble in the jungle."
How did you decide which artists and tracks to feature on the album?
"We spent several months compiling the right tracks for the album with many a heated debate lasting into the small hours of the night. We want to represent as many styles and cross-genres as possible to reflect the diversity of our artists."
How would you describe the current Flex sound? And how has this changed since the old days?
"Diverse is the word I would use for our sound right now. We are blessed to currently be working with artists that reflect all of sub-genres in D&B/Jungle. We still have original Flex producers on board such as myself, Roughcut, Sappo & Dungeon Master and with hundreds of thousands of digital labels in the D&B/Jungle market, we decided to modernise the Flex artist pool."
How have you noticed the scene has changed in the last decade?
"The digital revolution!!, Haha! I think a lot the music industry were caught napping when it hit. Nobody predicted a group of college students could undo generations of work almost overnight with a file sharing program… There is a much larger corporate presence these days at various levels of the scene."
You have a huge and fantastic back catalogue of tracks, now vinyl is popular again, do you have any intentions to release any, or will it just be new material you are focusing on?
"Yes we are extremely keen to get back into the vinyl market. We have a newly remastered back catalogue out now and will be re-releasing some of the classics soon"
What is the next project we'll be seeing from Flex?
Flex041 Vinyl 12" single release (a)"Real love" (b)"Nice n Easy" by Ricky Force this spring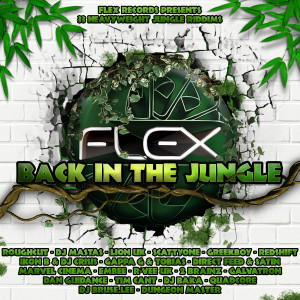 Review of new Mix Album "Back in the Jungle" Flex's come back compilation
33 Tracks. Yes that's right. 33! It's a lot, so we thought we'd pick our top few for you. Tracks on the album from the likes of Greekboy, Lion UK, Marvel Cinema and Dan Guidance, 2Brainz, Direct Feed And Satin, Werd MC, Roughcut, Embee, Tim Cant, DJ Mastas, DJ Baka, DJ Bruce Lee, Dungeon Master, Quadcore, Glavatron, Redshift, Scattyone, R-Vee UK, Happa G, Tobias, Ikon B and Crisis.
So out top selection from the Massive Jungle CD
The Creation by Greekboy
The opening track is always going to be a strong one and this is no exception. Crisp amens and atmospheric chords build to a vocal snippet and then a rolling bassline as it all comes together. It's got a hint of early Bukem about it, the atmosphere keeps building as the beats and bassline roll on. The breakdown takes us down into a melodic soundscape of samples that float in and out of our consciousness, until the beats kick back in and we're off again.
Dread Positive by Direct Feed & Satin featuring Werd MC
Direct Feed and Satin take us on a dubby jungle trip though their amen landscape. Werd MC takes thing in a slightly different direction with some quality vocals. Not your usual stuff, giving the Jungle MC a much needed new direction. Jungle Hop. It's a nice touch, it sounds fresh and new and gives the whole track a deeper dimension. It's always hard to drop lyrics in a Hip Hop stylee over Jungle, even harder to keep it sounding correct while changing the standard flow. Werd Mc carries it off with ease and style. We may have a new favourite MC, the beats and bassline keep the lyrically content in check and the two work together in beautiful Jungle harmony.
Back in The Jungle by Roughcut
"all I could think about was getting back into the Jungle", great sample, we should have included it in our where did the sample come from article. This one comes from Martin Sheen from Apocalypse Now. Big bassline, fast and furious beats fly out over it, as Roughcut shows us how it should be done. A straight up Jungle dancefloor destroyer.
Submarine by DJ Mastas
So atmospheric it needed it's own stormy weather sample at the start. Haunting vocals puncture the rain, as the bassline introduces itself through a cerebral altering wave of bass. The beats kick off, the bassline warps and the vocal and chords take us a little deeper. The vocal gives it a kind of early techno (Orbital) feel while the bassline reminds you who's in charge.
Life by Scattyone
Got to love a well done piano. Taking us back in time Scattyone drops the pianos into a simple crisp breakbeat. The pianos build, the hairs on the back of your neck stand up, a really rich sounding track. The pianos layer over each other in perfect harmony until the track breaks down and the vocals float in, until……."Well hear this" familiar ragga vocal drops and the mayhem is unleashed. Crazy amens and bouncy basslines take over and the dancefloor goes into overdrive, before he brings back the layers of painos and vocals and all it ties perfectly together. If you haven't got a dancefloor full of people with their hands in the air by the end, then you're doing it wrong.