Keith rinse it chats to us about his forthcoming Jungle Warfare release
Junglist Network (Walshy Selecta) speaks to Keith Rinse it ahead of the forthcoming Jungle Warfare 4 track EP release.
Check out this and other tracks on  his Soundcloud.
For those that don't know, Keith Rinse it is the label manager for RIQ YardRock and hosts the YardRock Jungle Foundation show on Kool FM London (www.koollondon.com) every other Tuesday 9-11pm.
Keith started out DJing in the early 90's and has presented on various Radio stations since 1st appearing on Shine FM back in 1998, and before coming onto Kool he was a DJ on Origin FM.
The Jungle Warfare EP is Keith's 1st solo release on the label, he has also had a release on YardRock in 2015 which was the High Chapparal remix.
Interview followed by review…..
1.Many people in the scene know you for hosting the Yardrock show on Kool FM, how long have you been into the music production side of things? 
 I started producing music in 1998, I had been a dj for 7 years and it felt like a natural progression to start writing the music I loved so much. I studied Audio Engineering and music production at the industries leading academy Alchemea and it all went from there.
2. Who are your main influences as a producer, in the world of Jungle Drum and bass?
 I'd say my biggest influence over the last 4-5 years has been Marvellous Cain. I started working with him on the whole YardRock project in 2011. He's been mentoring my production and showing me the production techniques he's been renowned for over the last 25 years. I really like Serum and Voltage's productions, they're kind of crossing over Jungle and Drum and Bass. I'm also a big fan of Hazard's productions, there's some extremely talented producers in our scene at the moment that are making some awesome music
3. Who are your top 5 DJ's in the scene right now?
My top 5 Dj's are:
1. Marvellous Cain
2. Voltage
3. Nicky BlackMarket
4. Logan D
5. Hazard
4.  Each track on the E.P is laden with some pretty neat vocal samples, are there any tips you can give to upcoming producers to help make there sound unique?
One of the biggest tips I would give any up and coming producers would be that good enough isn't. Take time and make everything sound exactly how it should. If you think that something might not sound right then it doesn't. When it comes to taking samples I always go for the cleanest possible edit and try to be creative, make sure the sample is part of the song and not just stuck on there.
5.What can you tell us about forthcoming releases from the Yardrock camp towards the end of this year and into 2017?
 So we have a great end to 2016. Following my Jungle Warfare EP in October we have Marvellous Cain and Soundshifter's EP Jah Lab which is a 4 track EP of Jungle/DnB rollers then we finish off the year in December with the long awaited Hit Man EP. This is going to be the final remix EP of the legendary jungle classic and will have all the mixes from the original to now. We have mixes from Hype, King Yoof, Jungle Citizens and many many more of the scenes A list. I've got a full vocal mix on there too sampling all of Cutty Ranks' verses. As for 2017, well u will have to wait and see…
6. What has been your favourite tune to drop recently that always gets a play in your set? 
 I have a lot of great exclusives in my set so I'd like to take a second to thank everyone who sends me music. A track I always play and have done for a while is the Serum mix of Warp10 (The Rocky Tune). There's only a few of us that have that mix and it always goes off when I drop it. Big up Rude Bwoy Monty on the original mix.
7.Name one thing in your studio you couldn't live without? 
 I'd say my greatest tool in my studio is Logic Pro, I've used Logic since 1998 and for me it's the best DAW. As far as hardware goes it's got to be my N/I Maschine. I use it to write most of my rifts on as a controller for Massive, Serum etc and I'm playing around with a kind of live performance concept with the Maschine Jam to take my Dj sets in a different direction.
8. What guests have you got lined up for your radio show in the near future?
Guest wise on I will have Virgo Don passing by to perform on the show, he's pretty much my regular MC. I'm going to have Global Brockout passing by at the end of the month to promote their latest release and I'm trying to secure a date Galvatron can pass by at the moment.
9. Is there any artist, vocalist or producer, you would like to collaborate with?
There are LOADS of artists I'd like to colab with, if I had the chance to work with Noisia though I'd jump at it. The quality of their work is next level.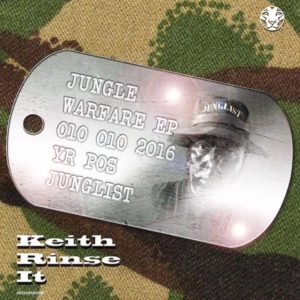 Jungle Warfare EP
Track 1
Agent Y – 1st tune of the EP is a straightforward affair, a simple bass lick and snare intro with a few soundbytes dropping in and out to create a neat little build up. A computerized 'Oh yeah' come in then Wallop! let the bass onslaught begin, this is YardRock, Keith Rinse It Style!
Track 2
Master Chief – Coming with a different approach to Agent Y, this one starts off a little spooky with some Halloween steel drum bizniz for the 1st 20 seconds with lots of things going on in the background, then the Rinse It kick drum and snare kicks in with a bit of sub bass for good measure!
Again a well worked breakdown and build up lead us straight into a big bassline Jungle roller! I'm sensing a theme here, and its damn good!
'We need to get going Chief… We need to get off this ship before we're completely over run…' Top notch vocal sample aswell…
Track 3
Modern Warfare – The title track of the EP and confirmation Keith Rinse It aint messing around on this EP. This is Jungle warfare!
An absolute stormer of a tune, again some very nice sample work with the vocal. Contender for best track of the EP in my opinion… #BOOM
Track 4
Mutate – Saving the darkest track until the end, this tune is a must have in my sets right now, some very intense vocal samples of some bloke being tortured which adds a good effect before the drop. Again the most important part of any jungle/Dnb tune, the bassline is well on point here, and I think its fair to say there's gona be a few hurt up sound systems after the Mutate gets dropped!!!
Another fine release from the yardRock camp!
Keith Rinse it would like to big up:
Marvellous Cain (the YardRock CEO)
Virgo Don, Power Zone, Inna Culture, Global Brockout
Luke EP, Jungle Citizens and all the artists working with the label at the mo. Also EastMan, Suzy G and all the team at Koollondon. All the dj's and friends who are supporting what we're doing, Swifty Habla, Choppah, AliZe and Congo Natty, MC.LA, Blish, Walshy, 119 and all the DJs playing our music. I'd like to thank everyone who's out there buying the music, coming to see us perform and making it all possible because without you we wouldn't be able to do this.
Save