Mc Skibadee
Mc Skibadee has roots are deep in the d&b genre, where he has stayed at the top of the game as an artist and has won a cabinet full of awards. Famed for his crowd hype, he has always retained a cutting edge to his vocal output. With an incredible international reputation, he has performed at shows all around the world, spreading the word of drum and bass.
As a key member of the highly praised sasasas group with national radio support from radio 1 and 1xtra, amongst numerous radio guest spots, skibadee's appearance on dj semtex's fast & furious freestyle part one with harry shotta and mic righteous was a highlight with over 1.2 million views.
Involved in the first ever dnb showcase to be put on sb.Tv which gained massive popularity in the social media world, he is the first d&b mc to have reached over 100,000 likes on his fan page. Not only performing each and every week to big audiences, his special dubplate was used by david rodigan for the recent red bull soundclash as part of rebel sound.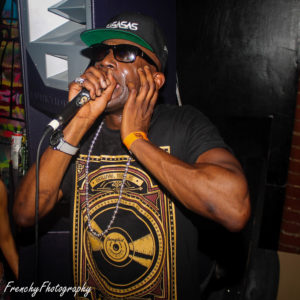 Skibadee is wearing our Orignal Dubplate in this photo, massive thanks to him for representing us by wearing our threads, make sure you check out his SASAS merchandise, it's fully sick and they are killing it in the Drum and Bass scene whilst keeping the vibes and energy of Jungle lurking in there sets.