The Top 10 Jungle Fever Anthems
This Saturday (23rd of July 2016), the mighty Jungle Fever returns for a massive rave at Electric Brixton (formerly the Fridge).
Jungle Fever has been setting the standard since back in the day, if your bedroom wall didn't have one of their amazing cut out flyers on it, then you weren't doing the whole rave thing properly.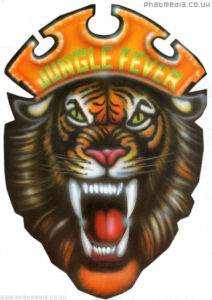 They are bringing back their own authentic Jungle vibe for 2016 with a crazy line up of original aritsts and the cream of new talent. The time is now right, for Jungle Fever to return, with a venue not similar to the original Astoria where it made history in the 90's.
All Junglist crew, past, present and future, come catch the Fever!
The might Jungle Fever lion is awake and roaring again.
Buy tickets online for Fever at Electric.
To get you even more excited for this, Eastman has given us the Top 10 tracks that helped make Fever what it is……….
In no particular order:
Leviticus – Burial
Adam F – Circles
LTJ Bukem – Atlantis
Dead Dred – Dred Bass
Deep Blue – The Helicopter tune
Alex Reece – Pulp Fiction
Congo Natty – Junglist
UK Apache & Shy FX – Original Nuttah
Kenny Ken – Everyman (Jungle Fever Special)
King of the Jungle – DJ Dextrous
Save
Save
Save
Save
Save
Save
Save
Save
Save
Save
Save
Save
Save
Save