Spring Summer range, a sneak preview of what we have coming soon.
New 2017 Spring Summer range teaser
We've been working tirelessly to bring you what he hope you agree is our most exciting range of clothes to date. We gone back to where we begun and really concentrated on some great new t-shirt designs. We've already released our first T-shirt in the range – our Jnglst Lighter tees and they have nearly sold out already, we can only hope the rest prove as popular.
But we wouldn't be pushing things if we only brought some new tees out, so we've got some new Jackets, Hoodies, Sunglasses, Shorts, Backpacks and even a watch.
We've been working with our designers around the world to bring you the highest quality and most original Junglist clothing that money can buy.
Here is s quick break down of just some of the exciting new threads you can expect to see on sale over the next 8 weeks. We will be releasing one item every week through March and April. So keep your eyes on our website, facebook and twitter for news of the latest items on sale.
View our new range as they come online in our New Clothing area of our shop
Sunglasses
Last year we brought out a very limited range of Bamboo Sunglasses, they were an instant hit and sold out really quickly. This year we have expanded our range into a few new styles. They are all once again made of Bamboo and engraved with our Jnglst logo on each side and on their rather fancy glasses case. The lenses are fully UV protective so you won't damage your eyes while looking like a true junglist this summer.

Hoodies
What makes a good hoodie? We have been puzzling over this one since we opened up shop. We hope we've worked it out with our new zip hoodies. They are made from the ultra soft and luxurious French Terry Cotton with camo detailing on the cuffs and bottom. Some have our logo embroidered on the breast and others have our camo Jnglst logo screen printed on the breast. They are a great fit, heavy weight so they hang well and have super strong zips.

Jnglst Jackets
Our Camo Winter Parker and Jnglst Body Warmers did much better than we could ever have dreamed, so we have decided to expand the range and over the next few months will have a black coach jacket with white print and embroidery as we as a new body warmer.
A Jnglst Watch
We're excited about this one. We have our own Jnglst Bamboo Watch, they have been custom made to our design and look amazing. They have our logo engraved on the back, on the watch face and on the metal part of the strap. They come in a cool little bamboo box with our logo engraved on it.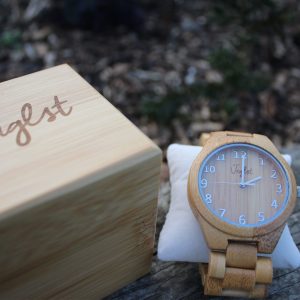 Backpacks
Out Camo backpacks have been worn by Junglists across the Universe (well nearly), so we thought it was about time we brought out a few new colours, looks and sizes. They are all the same great long lasting quality, they just aren't camo. We have a few that are a little large too so you can travel far and wide with your life on your back in style now.

Shorts
It wouldn't be very summery of us if we didn't bring out some shorts for those hot summer days. We've been roadtesting (in the freezing cold) loads of different shorts to get ones that are just right.
Lots of exciting stuff, this is more than just some merch, this is Jnglst Streetwear…….
This page will be updated as new products come in, or you can check in the New Products section of our shop.
Save
Save
Save