Top 10 Old Skool Jungle tracks, voted for by you.
Top 10 Old Skool Jungle Tunes as voted for by you!
Checkout the Mix of these Top 10 tracks by Walshy Selecta.
We asked you to Vote for your favourite Old Skool Jungle tracks and 2153 of you did. We put all the votes into a massive database and these are the tracks that came out with the most overall votes.
So, the Top 10 Old Skool Jungle tracks, as voted for by you are…….
No 10: M Beat featuring General Levy – Incredible
Well it had to be in the Top 10 somewhere, the anthem that just keeps on going. Do I need to say much more, I think everyone knows everything there is to know? Is it Junglist Massive, Jungle is Massive (it's the first one) and all the rest. Let's just say, it's Incredible…..
No 9: Leviticus – Burial
Released on Philly Blunt in 1994, produced by Jumpin Jack Frost with help from Optical (and Dillinja as the studio engineer) it has the most misunderstood sample in Jungle.  "Big, bad and heavy" has been scrambled into more ridiculous alternatives than a box of eggs. "Big Barnyard heavy", "Big, fat and hairy" and our favourite "Big, fat and heavy, eddie's phone says that I'm eating a canary", where just a few we found online.  The samples in the track come from a Jigsy King and Tony Curtis Track "My Sound A Murder", Foxy's "Mademoiselle" and a re-sung vocal from Jull Francis's "Make Love to Me".  A seminal Jungle track and one of our favourites.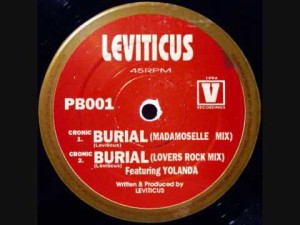 No 8: Congo Natty / Tribe of Iassachar  – Junglist featuring Peter bouncer
"I'm a Junglist" "don't try to change my plan". Samples coming thick and fast from "Tic Toc" Lords of the Underground, "Mad Crew" by KRS One, "Just Kissed my baby" by The Meteors. "Bring the Noise" by the legendary Public Enemy and "Funky Worm" (great name) by Ohio Players (less great name) and of course the voice of Peter Bouncer.  He also featured on "Raving I'm raving" by Shut up and Dance and "Fever" by Congo Natty, an iconic voice for an iconic track.
No 7: Urban Shakedown – Arsonist
Gavin King (Aprhodite) and Claudio Giussani made up Urban Shakedown. Arsonist was released on Labello Blanco Recordings. Chopping the famed Amen Brother break by the Winstons, which along with time stretched vocals gives it that trippy roller vibe. There are various dubplate mixes doing the rounds on the internet including a Mickey Finn Vip mix, Dub beats mix and a tonne more.  The Ragga vocals are from D.Bo general (or is it Dee Bo General).
No 6: Deep Blue – The Helicopter tune
Produced by Sean O'Keeffe aka Deep Blue, released on Moving Shadow in Dec 1993, it's another classic. O'Keeffe also co-produced "bombscare", the hardcore classic with 2 Bad Mice.  The Helicopter track was featured on GTA Liberty City Stories in 2006 and got to no 68 in the UK in April 1994. There was a sick Rufige Cru remix, a 2 bad mice remix and various others, in an assortment of exciting looking covers (a bright pink one, a bright orange one). The track is still one of those stand out anthems that is known and loved by people well beyond the reaches of Jungle and that's without mentioning the impact it always has on a Jungle dancefloor.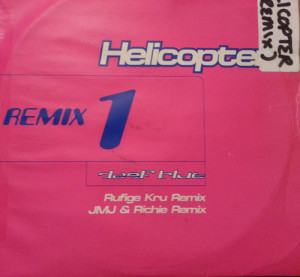 No 5: Remarc – R.I.P
Released on Suburban Base in 1995 and sampling Saxon Sound and King Addies.  Remarc is truly the "King of the Amen" and shows us how it should be done, using The Winston's "Amen Brother". It sounds as crisp and current today as it did back then. Seems to be the popular choice of the "heads" perhaps due to the Amen wizardry.
No 4: Renegade – Terrorist
Produced and written by Ray Keith, released in 1994. The track replays a piano from Japan's "The Nightporter" taken from their album "Gentlemen take polaroids".  The piano is really the killer, the moment you hear that in a club you know it's about to go off. The bassline and beats that follow are Jungle perfection.  The Amen came from Mantronic King of the Beats, Ray said in an interview with the ransom note "So I lifted it from King of the Beats and left if clean on Renegade – Terrorist and then everybody sampled it from me". Also Ray says he didn't sample the piano directly but "put my own twist on it" by replaying it "if you listen to theirs it's a bit more eclectic and leftfield but I made mine more of a rave type of piano".
No 3: Shy FX & UK Apache – Original Nuttah
Released on Dave Stone's Sounds of the Underground Records (S.O.U.R) in 1994 "Original Nuttah" is an unstoppable force.   The track samples Ray Liotta in Goodfellas, it's another track that is often lyrically misheard, the best quote online by a mile is the Russians who think "A-ni-ni-wooy" is UK Apache saying the Russian word for "reindeer breeders". Genius! Despite a few other earlier releases it was Original Nuttah that really put Shy Fx on the map. You could hear it booming out of (almost) every sound system at Notting hill that year. The horns are sampled from Cypress Hills "I wanna get high" and along with Uk Apache's opening lyrics give the track its hectic opening energy.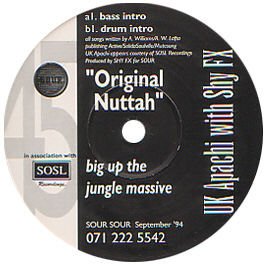 No 2: Omni Trio – Renegade Snares
Rob Haigh as we have touched on before in other articles, is some kind of next level music genius who these days releases piano works that come from his freeform improvisation at the piano (genius territory surely?).  You can tell from the depth of the production that something pretty high end is going on, "Renegade snares" has proved to be one of those tracks that just stays fresh for decades.  The sample this time round comes from Soundsource "Take me up"
No 1: Origin Unknown – Valley of the Shadows
Released on Ram Records as a B-Side as the labels 4th release, the track took off into the stratosphere and cemented itself as a Jungle classic and our Number 1 Old Skool Jungle track! You voted in hordes for this. Written by Andy C and Ant Miles (founder of Ram).  The sample is from a 1988 Q.E.D (remember them) documentary called "Glimpses of Death" in which a women called Barbara discusses the near death experience she had while in labour.  She later went on to write to Andy C saying she didn't mind that he had used the sample after he daughter heard the track playing. It propelled Andy C into immediate headliner material and gave Ram Records one of it's biggest hits.